Unfit to conceive by natural method of fertilization, if yes then plump for IVF Hyderabad
Infertility in India is a major topic, which is circling amongst many individual. There are several reasons why this disorder occurs in male or female such as improper lifestyle, irregular and unhealthy balance diet, over or underweight, excess workout and many more points can be added. However, not to worry about this issue as this is not that the matter of real concern, all thanks to advance fertility treatments and latest equipments of the A-1 doctors and techniques.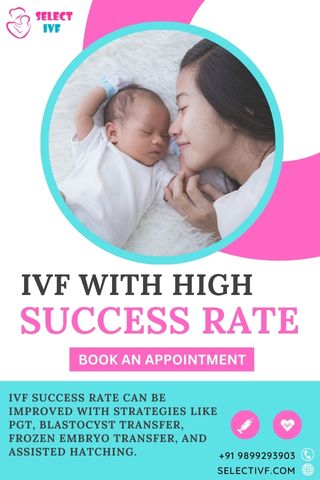 Why should you trust SELECT IVF for surrogacy in Hyderabad?
First-stage top counseling sessions
Premium services and processes
Highly competent specialists for surrogacy treatment in Hyderabad
Sky-high surrogacy success rates in Hyderabad
Contact us Email ID: info@selectivf.com
Call us: +91- 9899293903
IVF in Hyderabad is the latest method to disentangle infertility syndrome and is well-known just because of its high success rate. IVF is fully known as In Vitro Fertilization, is an advance fertility treatment of ART (Assisted Reproductive Technology). IVF Hyderabad is the most desired fertility treatment and comes prior in the list of any fertility course of medication.
Mainly five steps are included in the IVF Hyderabad
Prescription of fertility medication for ovaries stimulation
Procedure of egg retrieval
Sperm sample collected from male
Fertilization
IVF treatment is appropriate for
Male factor infertility such as low count of sperms, less motility of sperms (ICSI treatment is applied with IVF Hyderabad when there is an inadequate sperm production)
Female factor infertility where we can include improper ovulation, premature ovulation disorder.
Women whose fallopian tube either blocked or damaged
Fallopian tube is removed
Couple (male or female) carrying genetic / hereditary disorder
Unexplained infertility
What are the steps followed to complete IVF treatment?
Complete the procedure of IVF, there are around five stages which include consultation, ovarian stimulation, oocyte maturation and fertilization, embryo transfer, and a pregnancy test. All the processes of IVF have been explained in the post. Read it till the end to know more about it.
CONSULTANTS
The treatment of IVF begins with a consultation where the doctors check the current situation by collecting a blood sample and an ultrasound of the female patient. As per the quality of the eggs, the doctors suggest medication. Also, the male ones have to give their semen so that the gynecologist can understand the maturity and strangeness of semen. This step is the base of the IVF procedure as it helps to know the current situation which gives clarity for the infertility treatment.
OVARIAN STIMULATION
The next step is ovarian stimulation. In this step, the female gets the stimulant drug which they have to inject into herself so that the ovary can produce stronger and more eggs. This step takes 8 to 13 days of the time period. And at this time women need to be careful with the timing of injections. Each injection needs to be injected at a specific time. As the purpose of the drug is to produce mature eggs and lack of time management will not give the right amount of drug to the eggs. During this time period, the female ones need to visit the hospital around 5 to 8 times.
OOCYTE MATURATION AND FERTILIZATION
At the time eggs get matured the important step is Oocyte maturation. The oocyte maturation is completed by the fertilization process. After ovarian stimulation, when eggs get prepared at this time the doctors collect matured eggs from the ovary and store them on the cultural dish. Meanwhile, they asked for fresh sperm and separate good quality sperm. Further, keep both the eggs and sperm together on the cultural dish until they get changed into an embryo. The Oocyte maturation needs to be done between 34 to 36 hours after the last triggered injection.
EMBRYO TRANSFER
Now, the last step of IVF treatment is embryo transfer, at the time when eggs get fertilized with the sperm and become embryos, the embryo transfer process comes. But before performing the step there will be 2 to 4 days after the doctors leave it until it changes into a blastocyst. Now, the embryo will be transferred into a female uterus
IVF treatment success depends upon certain points
Cost is one of the important factors that get prepared for before starting the treatment. The cost is going to be described in the article as an average cost that gets asked in most cases. In this case, all the expenses will be included that will happen during the treatment. The price of IVF in Hyderabad will be between Rs 2,50,000 – 4,00,000. Where things will be included such as consultation, medication, laboratory, embryo transfer, frozen embryo, etc.
| | |
| --- | --- |
| IVF treatments | Cost of IVF treatments |
| Basic IVF treatment | Rs. 80,000 to 2,50,000 |
| IVF with ICSI | Rs. 2,00,000 to 3,50,000 |
| IVF with FET | Rs. 1,50,000 to 3,00,000 |
| IVF with PESA, TESA, and TESE | Rs. 2,50,000 to 5,00,000 |
| IVF with sperm donor programs | Rs. 1,00,000 to 2,50,000 |
| IVF with egg donation | Rs. 1,80,000 to 2,50,000 |
| IVF with embryo donation | Rs. 3,50,000 to 5,50,000 |
| IVF with surrogacy | Rs. 3,50,000 to 5,50,000 |
| IVF with PGS/PGD | Rs. 1,50,000 to 2,50,000 |
What is the success rate IVF treatment provides?
Generally, the IVF treatment success rate relies on the age of the woman and so on the good quality of the eggs. Experience also matters a lot in having a decent success rate for IVF Hyderabad. IVF in Hyderabad performs this treatment with veteran hand specialists. IVF, somehow majorly depends upon the woman's age (whose eggs are used), sperm motility and its production, and obviously crackerjack doctors. IVF Hyderabad's success rate of IVF treatment is 72-75%. If you are planning for IVF treatment to decipher your infertility issue, then must say, go for IVF treatment in Hyderabad. Best of luck with your journey of IVF treatment.
| | | |
| --- | --- | --- |
| No. | IVF treatments | Success rates |
| a. | IVF with self-eggs | 50 to 60% |
| b. | IVF with self-sperm | 55 to 60% |
| c. | IVF with donor eggs | 70 to 75% |
| d. | IVF with donor sperm | 73 to 77% |
| e. | IVF with FET | 60 to 65% |
| f. | IVF with ICSI | 50 to 65% |
Your Success rate with IVF in Hyderabad will still depend on several variables. Because some couples are older than others, this affects their odds. because producing healthy gametes becomes difficult as people age. Additionally, inadequate gametes during the IVF procedure can result in a failed IVF. So, for a successful outcome, you need healthy gametes. Instances include:
Women who are 45 years or older have a 15–20% probability.
Women who are 40 years or older have a 20–21% probability.
Women who are 35 years or older have a 25–28% probability.
Women who are 30 years or older have a 33–35% probability.
Women who are 25 years or older have a 40–50% probability.
What should you consider when selecting the top IVF clinic in Hyderabad?
We understand how difficult it becomes to select the best option for your infertility treatment but do not get tense as one of the best options is going to suggest to you where the patient collaborates with highly experienced and qualified doctors. The patient will find it comfortable as the staff will always stand by them away from all the quarries that come to their mind. We offer all types of infertility treatment so contact us today! To start, consider the following factors while selecting a location:
i. The patient-focused assistance of the centre
ii. Professionals with extensive education and experience
iii. Infrastructure that is well-built for maximum comfort and happiness
iv. The entire medical staff treats you with respect
v. Assists you throughout the entire process from the beginning
vi. Offers transparent fees and processes
You have the option of choosing IVF for all of these! So, reach out to us at +91- 9899293903 | Email ID: info@selectivf.com
FAQs
What is the cost of IVF in Hyderabad?
The cost of IVF in Hyderabad typically ranges from Rs. 90,000 to Rs. 2,50,000 per cycle, depending on the clinic and the specific treatments required. However, the cost may vary based on individual circumstances and additional procedures or medications needed.
Which IVF clinic has the highest success rate in Hyderabad?
Select IVF India has the highest success rate among IVF clinics in Hyderabad.
How much money is needed for IVF?
The cost of IVF can vary depending on various factors such as location, clinic, medications, and procedures, but it can typically range from Rs 90,000 to Rs 2,50,000 per cycle.
How many cycles are there in IVF?
The number of cycles in IVF can vary depending on the individual's specific circumstances and the recommendations of their healthcare provider. Generally, patients undergo multiple cycles of IVF to increase their chances of success, but it can range from one to several cycles.
Read Also: