All About The Cost Of IVF Treatment In Noida
Couples, who are outlining their IVF treatment, need to make sure that they have cross-checked all the important aspects regarding their treatment.
There are several things, which a couple should consider while selecting an IVF centre in Noida for their procedure, and out of many points, the most crucial factor is the cost.
If you are seeking the best package of the Price of IVF in Noida then here you have landed on the correct page, where you will gather ample knowledge about the cost breakdown of IVF treatment.
Infertility is a problem that can be faced by anyone whether male or female. Facing infertility issues and searching for solutions then in this article you will be aware of the important factors of infertility. All the questions which pop into your mind will be get answered and clear your all doubts. And for further information meet with our specialist.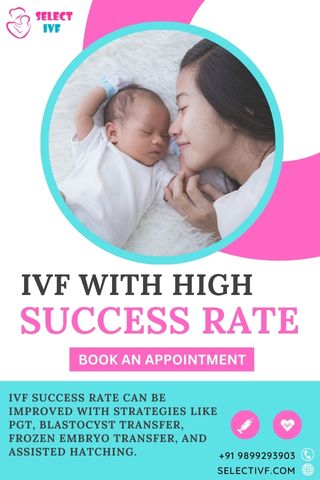 Why should you trust SELECT IVF for IVF in Noida?
First-stage top counseling sessions
Premium services and processes
Highly competent specialists for IVF treatment in Noida
Sky-high IVF success rates in Noida
Contact us Email ID: info@selectivf.com
Call us: +91- 9899293903
The article will make you informed regarding IVF treatment which gets complete with ART techniques. The ART techniques are known for their treatments which include IUI, IVF, ICSI, surrogacy, PESE, PESA, TESA, etc.
IVF is one of the most common treatments used to get the desired goal. In this treatment, the doctors pick out the sperm and eggs to combine them into the cultural dish where it will change into an embryo and further the doctors transfer the embryo into a uterus.
The IVF treatment has helped many couples to achieve their desire for pregnancy where the millions of couples are happy in their life with this treatment.
Who we are
We are one of the emerging Medical Tourism Facilitator, which serves best IVF treatment across India; we do have an association with the top-most hospitals and centres across the world providing the best treatment along with the highest success rate. Select IVF India promises the intended couple to get a high-class treatment performed by the veterans of IVF centre in Noida. Select IVF India provides the most reasonable IVF Cost in Noida without compromising the exceptional amenities all through the way of patient's IVF treatment.
What should you consider while selecting the IVF Centre in Noida?
To get an affordable IVF Cost in Noida visit the hospitals under Select IVF India which offers the reasonable cost of IVF which is around INR 1,75,000 – 2,00,000 for one fresh IVF cycle which includes charges of fertility expert, ultrasound scans, blood tests, standard medications, egg pick-up, sperm preparation, airport picks up and embryo transfer. The cost of IVF package in Noida includes the cost of consultation and the medication which requires stimulating the ovaries, there are not any extra or hidden charges, which a couple needs to pay.
There are some IVF centres in Noida that offer IVF treatment less than the average cost (less than 1, 50,000) of actual IVF. This is one of the strategies made by them to attract the couples choosing IVF from that respective centre, later on, the manager adds the hidden charges on the patient's bill.
At this stage, the couple has to pay the fees because of their on-going treatment with that centre. Money-making has become one of the common ways to attract individuals, that's the reason why it is suggested to choose any of the IVF centres very carefully knowing each prospect deeply.
If we talk about the cost-breakdown of IVF treatment, then the cost of the medication for stimulating ovaries is also very reasonable which is around INR 60,000 – 70,000 for one cycle; however, the cost of drugs may vary depending upon that how many injections are required by women to grow her eggs; if there is a need for additional blood tests, then it will cost you less than INR 2,000 – INR 3,000.
The Basic Package of IVF Cost in Noida
IVF treatment Noida does not consist of a single step; it takes multiple steps to accomplish a single IVF cycle. Thus it never costs a couple at thousands, it usually begins with INR 1,75,000 and goes up to INR 2,00,000 or even 2,10,000 – this fluctuation of the IVF charges is because of different centre's criteria, and its location.
Under the hospital networks of Select IVF India, the IVF Charges in Noida is INR 1, 75,000 – 2, 00,000.
Is there any advanced IVF package as well? Yes, there is! The IVF as mentioned earlier cost in Noida is fundamental as it takes the medical component (eggs and sperm) of the couple during the treatment that means the embryo gets created by the couple's eggs and sperms.
When the intended couple has made the embryo without using any third-party arrangements or any ultra-modern techniques, then the cost of IVF in Noida is INR 1, 75,000. However, when an IVF specialist recommends a couple to go for third-party ART (IVF with donor egg, IVF with donor sperm or even IVF with donor embryo), then the IVF cost in Noida goes high.
There are some ultra-modern apparatuses also, which, when required, is used by the experts. By combining with these types of equipment with IVF, the total cost gets influenced, such as IVF with PGD technique, IVF with IMSI/ ICSI, IVF with PICSI technique. The value of advanced IVF treatment always fluctuates based on the couple's fertility issue. It can go up to INR 3, 50,000.
CHARGES OF IVF TREATMENT IN NOIDA
COST IN INR
IVF treatment with couple's medical component –
Consultation charge
Stimulation medication
Regular hormonal Injection
Ultrasounds
Blood Work
Fertility lab charges
Trigger Shot
Collection of eggs
Fertilization
Embryo transfer
INR 1,75,000-2,00,000
How is the Cost of IVF in Noida divided?
The Cost of IVF in Noida is divided into two categories, and these are:
(i) Basic IVF cost: The basic Cost of IVF in Noida is around INR 2, 00,000 (approx) for one cycle. The actual price for one IVF cycle will only be confirmed when an IVF specialist will examine you properly. After your examination and screening the fertility expert at Select IVF India will suggest you the best IVF treatment which will help you in achieving your goal of success which is your own baby and also confirms you the actual cost of the IVF treatment in Noida.
(ii) Advanced IVF cost: In case IVF treatment alone is not able to provide with the successful outcome then the fertility expert will recommend you with advanced IVF procedures such as IVF with FET, IVF with PGD, IVF with an egg donor, IVF with surrogacy and much more.
The Cost of IVF in Noida for these advanced treatments (as per mentioned above) will depend on the procedure you opt for to treat your infertility issues. With an increase in the cost of IVF procedure, the chances of conception will also increase, and you will be able to enjoy your parenthood happily with your own baby.
What are the factors that affect the IVF Treatment Cost in Noida?
The following are the factors due to which the IVF Treatment Cost in Noida will increase if not taken care properly, and these are:
Age: Age is a significant factor which increases the IVF Treatment Cost in Noida because with growing age the quality of women eggs get decreased and she needs high doses of fertility drugs to stimulate her ovaries so that she will be able to produce more mature and healthy eggs.
Obesity: Obesity is another primary reason due to which the cost of IVF will increase because people with more weight need high doses of fertility drugs to stimulate the ovaries.
Change in lifestyle: If you smoke or consume alcohol, then you need more fertility drugs to stimulate your ovaries because smoking and drinking will decrease your chances of conception and increase the rate of miscarriages.
Advanced IVF treatment – If the couple is facing with acute fertility issues and unable to achieve parenthood with alone IVF, then there are several other ART techniques which when combined with IVF, the chances of pregnancy gets increased. If a couple goes for IVF with any of the advanced ART methodologies, then the total cost of IVF gets high.
Table of IVF Treatment Cost in Noida 2023
| | |
| --- | --- |
| IVF treatments | Cost of IVF treatments |
| Basic IVF treatment | Rs. 80,000 to 2,50,000 |
| IVF with ICSI | Rs. 2,00,000 to 3,50,000 |
| IVF with FET | Rs. 1,50,000 to 3,00,000 |
| IVF with PESA, TESA, and TESE | Rs. 2,50,000 to 5,00,000 |
| IVF with sperm donor programs | Rs. 1,00,000 to 2,50,000 |
| IVF with egg donation | Rs. 1,80,000 to 2,50,000 |
| IVF with embryo donation | Rs. 3,50,000 to 5,50,000 |
| IVF with surrogacy | Rs. 3,50,000 to 5,50,000 |
| IVF with PGS/PGD | Rs. 1,50,000 to 2,50,000 |
What is the success rate IVF treatment provides?
The success rate of IVF in Noida is described below and all the different situations have been mentioned. The success rate depends on the ones as per the challenges they are facing. If it can be cured with the help of medication then the couples will get a high success rate. It is recommended that for better information regarding your infertility problem consult with your doctor who will tell you the success rate as per your complication.
| | | |
| --- | --- | --- |
| No. | IVF treatments | Success rates |
| a. | IVF with self-eggs | 50 to 60% |
| b. | IVF with self-sperm | 55 to 60% |
| c. | IVF with donor eggs | 70 to 75% |
| d. | IVF with donor sperm | 73 to 77% |
| e. | IVF with FET | 60 to 65% |
| f. | IVF with ICSI | 50 to 65% |
Your success rate with IVF in Noida will still depend on several variables. Because some couples are older than others, this affects their odds. because producing healthy gametes becomes difficult as people age. Additionally, inadequate gametes during the IVF procedure can result in a failed IVF. So, for a successful outcome, you need healthy gametes. Instances include:
Women who are 45 years or older have a 15–20% probability.
Women who are 40 years or older have a 20–21% probability.
Women who are 35 years or older have a 25–28% probability.
Women who are 30 years or older have a 33–35% probability.
Women who are 25 years or older have a 40–50% probability.
What should you consider when selecting the top IVF clinic in Noida?
We understand how difficult it becomes to select the best option for your infertility treatment but do not get tense as one of the best options is going to suggest to you where the patient collaborates with highly experienced and qualified doctors. The patient will find it comfortable as the staff will always stand by them away from all the quarries that come to their mind. We offer all types of infertility treatment so contact us today! To start, consider the following factors while selecting a location:
i. The patient-focused assistance of the centre
ii. Professionals with extensive education and experience
iii. Infrastructure that is well-built for maximum comfort and happiness
iv. The entire medical staff treats you with respect
v. Assists you throughout the entire process from the beginning
vi. Offers transparent fees and processes
You have the option of choosing IVF for all of these! So, reach out to us at +91- 9899293903 | Email ID: info@selectivf.com
Conclusion
Select IVF offers competitive and affordable packages for couples seeking fertility treatment. With starting prices as low as INR 90,000, they provide cost-effective solutions without compromising on the quality of care.
The experienced team at Select IVF, along with their state-of-the-art facilities, ensures that patients receive comprehensive and personalized treatment. By offering transparent pricing and flexible payment options, Select IVF aims to make IVF treatment accessible to a wider range of individuals and couples in Noida.
Whether it's the IVF charges in Noida or the cost of IVF in Noida, Select IVF strives to provide exceptional value for money. Patients can rely on their expertise, advanced technology, and compassionate approach to navigate the challenges of infertility.
If you're seeking affordable and reliable IVF treatment in Noida, Select IVF is a trusted option that prioritizes both your financial well-being and your dreams of starting a family. Visit their website to learn more about their IVF prices in Noida and take the first step towards parenthood.
FAQ
How much does India IVF cost?
The cost of IVF treatment in India can vary depending on the clinic, the location, and the specific treatments and procedures involved. On average, the cost of a single IVF cycle in India can range from Rs. 80,000 to Rs. 2,50,000.
What is the fees of IVF in Delhi?
on average, the cost of a single IVF cycle in Delhi can range from around Rs. 80,000 to Rs. 2,50,000.
How many cycles of IVF to get pregnant?
On average, it may take 2-3 cycles of IVF to achieve a successful pregnancy.
Is there an age limit to IVF?
There is no legal age limit for IVF treatment in India, but individual fertility clinics may have their own age restrictions. However, older women may have lower success rates with IVF due to decreased egg quality and quantity.
Read Also: