Fertility treatment also referred as Infertility treatment, is needed by those couples who face hard time in getting pregnant. This issue may be due to age factors, female ovulation issue, sperm motility or mobility, tubal causes, lifestyle factors or other unexplained infertility reasons.
To eliminate infertility disorder, couples plan to undergo with infertility treatment. You must be wondering about what infertility treatment is and how each treatment is applied on the couple's infertility case.
In this page, there is all about the information of Fertility treatment Hyderabad, its cost and brief description so that you will get to know how one fertility treatment is different from other and why its success rate also fluctuates; let's get deep down to gather all the major detail of Fertility Treatment in Hyderabad.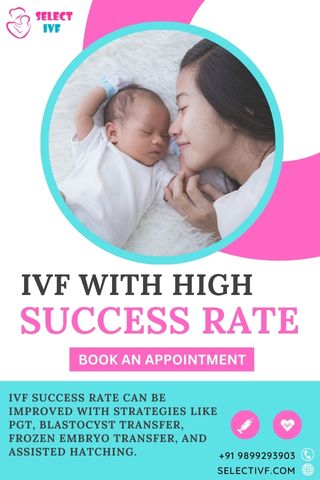 Why should you trust SELECT IVF for Fertility in Hyderabad?
First-stage top counseling sessions
Premium services and processes
Highly competent specialists for Fertility treatment in Hyderabad
Sky-high Fertility success rates in Hyderabad
Contact us Email ID: info@selectivf.com
Call us: +91- 9899293903
About Fertility Treatment in Hyderabad
Infertility, now has become one of the most discussed topics amongst several individual because of its escalating and amplifying count.
Let it be clear Infertility is not a disease; it is a hormonal disorder that may occur due to the improper lifestyle such as consumption of alcohol, chewing tobacco, inadequate sleep, chemical toxins in work area, smoking etc.
The common reason in female infertility –
Damaged fallopian tube
Uterus issue
Uterus missing
(That may be due to rare genetic malformation or by the surgery, refer as Hysterectomy)
Above specified factors always get in the way of a woman's pregnancy and hold back their pregnancy duration.
Common reason of male infertility –
Low count of sperm
Less motility of sperm
Inactive sperm
No sperm found in semen
These are common male infertility factor that makes female partner unable to impregnate and conceive.
How to get rid of Infertility Disorder?
Infertility is said when a couple has been trying very hard (without using any protection) to get pregnant for more than 1 year (under the age of 35) and more than 6 month (above 35-37) but still they are unable to attain parenthood.
Today, there are different manners of artificial medical support that have been used best to eliminate infertility issue. Fertility treatment Hyderabad is divided into two parts – Non ART technique and ART technology. Non art technique consists of relatively simple and speeds up procedure and applied when a couple (male or female) is having minor issue to the way to get pregnant.
ART technology encompasses advance fertility treatments and only applied when a couple has severe fertility issue such as premature ovarian disorder, repeated miscarriage, acute endometriosis etc. Some of the most acceptable Fertility Treatment Hyderabad –
Intra-Uterine Insemination
IVF or In Vitro Fertilization
ICSI / IMSI
Sperm Surgical Aspiration
(MESA, TESA or PESA)
Donor Egg IVF
Donor Sperm IVF
Gestational Surrogacy
Infertility Treatment in Hyderabad –
IUI – Intra-Uterine Insemination or Artificial Insemination –
IUI is a relatively simple fertility treatment and give successive result when a male or female has –
Female has hostile cervical condition, it also includes cervical mucus issues
Male has ejaculation dysfunction
Couple has unknown infertility disorder
Mild factor male infertility
Semen allergy
IUI Fertility Treatment in Hyderabad is performed with or without fertility medication. Women who produce healthy eggs each month or carry regular menstrual cycle need not to go with fertility medication.
During IUI treatment, male is supposed to provide his semen sample to the fertility centre. Once the semen is reached to the centre, the specialist washes the sperms by a unique manner; this washing is done in order to get healthy, active and motile sperms. The sperms, which are unhealthy or carry impurities- all get eliminated by this step and hence IUI method facilitates the chance of fertilization.
IUI Cost – The cost of IUI Fertility Treatment Cost in Hyderabad is INR 20,000-25,000. During this process, fertility lab charges, steps of IUI like semen collection, washing technique, transferring the washed sperm into the female's uterus- are included.
In Vitro Fertilization or Test Tube Baby Treatment –
IVF is one of the most acceptable fertility treatments and a latest technique in ART that flushes out the issue of infertility. Art treatments or non treatments never promises for guaranteed result but some of the factors decide positive results like the egg quality, semen quality; we will later discuss about this topic.
IVF Fertility treatment in Hyderabad follows multiple steps and takes 4-6 weeks to complete the entire process. IVF is best for –
Women who have irregular menstrual cycle
Premature ovarian failure
Ovarian disorder
Fallopian tube blockage
Damaged fallopian tube
Male factor infertility
Women, troubling with Endometriosis
During IVF treatment initially, a female has to undergo with a course of fertility drugs and medication. This fertility drug is of 12-14 days; a female has to take regular hormonal injection during this phase. These medications are given so that a woman will produce multiple eggs at the time of egg retrieval.
IVF uses multiple eggs to avoid any risk in fertilization process. Once the eggs are collected by the fertility veterans of Select IVF India, the next process is achieving fertilization. Fertilization is done by keeping the male sperm and female egg altogether in a culture dish.
Where there is the possibility of low point fertilization due to male's sperm (less motile) then IVF fertilization is accomplished with ICSI technique. ICSI also is one of the advance techniques to attain fertilization. ICSI is always preferred for male infertility factor. During ICSI, a single and motile sperm is directly injected into the egg to speed up the procedure of fertilization.
Once fertilization is accomplished, the embryo is gently transferred into the uterus of the female to carry pregnancy. Within 12 days, pregnancy test is done.
IVF Cost – IVF Fertility Treatment Cost in Hyderabad is INR 1, 75,000, but this cost can go up to INR 3, 50,000 on the basis of couple's infertility case. Procedures like donor egg, donor sperm, donor embryo, Sperm surgical aspiration – almost all the Fertility Treatment Hyderabad is carried out with IVF methods (wherein initially a female has to undergo fertility medication, egg retrieval process, and embryo transfer). Hence the charges of all the techniques (combined with IVF) are quite high comparing with the basic cost of IVF treatment Hyderabad.
Fertility Treatment Cost Hyderabad of IVF technique includes the below step –
Initial consultation
Pre-checkups
Fertility Medications and hormonal injections
Blood work
Ultrasounds
Procedure of follicular aspiration (or egg collection)
Fertilization
Embryo Transfer
Some of the clinics include post embryo transfer checkups as well but this cost additionally. Post embryo transfer cost is INR 10,000- 15,000.
ICSI / IMSI technique –
This is the latest technology suggested by the fertility experts when male's sperm sample is extremely low and have less motility or contain abnormalities. This technique is carried out with IVF procedure. IMSI Fertility Treatment in Hyderabad is a technique, which uses a high-powered magnifier with magnification up to 6000x to visualize the sperms. The enlarged digital structure of the sperms allows the embryologist to observe any structural alterations and abnormality. This assists the experts to choose the best and motile sperm for the fertilization and thus IMSI enhances the fertilization procedure.
Talking about the cost of IMSI, it is very affordable by the Select IVF India fertility centre. IMSI Fertility Treatment Cost in Hyderabad is INR 1, 95,000-2, 00,000 this charge includes the cost of IVF treatment too; there is not any additional fees or hidden charges excluding this cost.
Select IVF India is the leading ART specialist centre that comes up with latest techniques and ultra-modern equipments throughout the treatment. It has world-class fertility veterans, who have more than 30 years of experience in resolving the case of infertility.
ICSI is applied when there is less chance of fertilization; Select IVF India provides ICSI with IVF in the same range of standard IVF cost.
ICSI Fertility Treatment Cost in Hyderabad is INR 1, 75,000 (with all the steps included in it).
SSR – Sperm Surgical Retrieval or Aspiration –
SSR or SSA is a surgical technique and always carried with the procedure of IVF ICSI. TESA, MESA, and PESA- these three treatments are mainly in SSR technique.
SSA is a surgical process, where sperms are aspired through a surgical technique. This technique is only recommended when a male is found to be No sperm at all in his semen. This male infertility case is rare in counts but there are several men who face with this fertility disorder.
Surgical sperm retrieval is best for the below case:
Hindrance putting stop to sperm release, may be due to infection or injury
Vasectomy
Congenital non-appearance of the vas deferens (males, who are born without the tube that drains the sperm from the testicle)
Non-obstructive Azoospermia – In this case, testicles produce low numbers of sperm that the sperms are not able to reach the vas.
Talking about the cost of Sperm Surgical method-
TESA Male Fertility Treatment Cost in Hyderabad is INR 35,000
MESA Male Fertility Treatment Cost in Hyderabad is INR 70,000
The above charges of Fertility Treatment Cost in Hyderabad do not include the entire procedure of IVF with ICSI; there is additional cost in each procedure of IVF with ICSI, i.e. 1, 50,000-1, 75,000.
Donor Egg IVF –
Since we know IVF does not follow a single procedure; it sometimes (on the couple's fertility case) combine with other ART techniques. One of such procedure of IVF is IVF with Donor egg.
Donor egg IVF is the best option to have own baby; although a baby in terms of genetic way do not relate with mother because the eggs during this process are provided by the donor.
Donor Egg is useful in several infertility cases like –
Woman above 38
Women who are unable to lay healthy eggs
Donor Egg is also used in IVF surrogacy
Using donated egg, a couple fulfills their own family by welcoming a new member with tiny fingers and cute smile hence this option is chosen by those women who suffers with poor egg quality.
Donor Egg IVF Fertility Treatment Cost in Hyderabad is INR 2, 75,000, if we look the actual cost of donor egg then its INR 1, 00,000-1, 25,000.
A reader must be questioning about this high cost of donor egg, the reason behind of it is a female/ donor who donates her own eggs has to undergo with initial steps of IVF and has to take all the fertility medications and hormonal injections for egg collection and the charge of donor egg is also there. That is why, donor egg charges are bit expensive.
Donor Sperm IVF –
Men who can't make the grade of healthy and motile sperms and had experienced failure IVF with ICSI/IMSI then this option is best to get conceived. Donor Sperm is also completed with IUI method.
The charges of Donor sperm is INR 20,000-25,000 in Hyderabad; if this process is getting done with IVF then the cost of IVF donor sperm Fertility Treatment in Hyderabad is INR 2, 00,000 (approximate).
Surgery –
There are n numbers of women, who suffer from blocked fallopian tubes, fibroids, or other genetic defects. May be there is a need to take away the tissue, which is caused by endometriosis or to treat the polycystic ovarian syndrome, a surgery termed as laparoscopy or laparotomy is performed and make it possible for a woman to bear a child. The exact cost of this surgery depends on the surgery and the fertility centre where it is accomplished. Fertility Treatment Cost in Hyderabad of laparoscopic surgery for blocked fallopian tubes can be upward of INR 20,000-30,000.
Gestational Surrogacy –
Gestational surrogacy is the last and ultimate option to deal with severe infertility case. It is the end most and also pricey procedure to go ahead. Success rate of gestational surrogacy by Select IVF India clinic is 95-97%. This is one of the most frequent solutions to say Good bye from your infertility days.
During this method, fertilization is done by IVF Fertility Treatment Hyderabad that means retrieving the intended female's egg and sperms from intended male partner. Gestational surrogacy is also achieved by donor egg IVF. Gestational surrogate plays a vital role all the way through this surrogacy process.
Fertility Treatment Cost in Hyderabad of Surrogacy method is INR 10 lakh – 15 lakh. This procedure includes each and every procedure of Surrogacy such as giving a fit and healthy surrogate, surrogate expenses, IVF treatment steps, embryo transfer etc.
Table mentioning costs of Fertility Treatment in Hyderabad –
| | |
| --- | --- |
| Fertility Treatment cost in Hyderabad | Cost in INR |
| IUI treatment | INR 20,000-30,000 |
| IVF treatment | INR 1,50,000-1,75,000 |
| Donor Egg IVF | INR 2,75,000-3,00,000 |
| Donor Egg | INR 1,25,000 |
| Donor Sperm IVF | INR 2,00,000 |
| Donor Sperm | INR 25,000-30,000 |
| ICSI | INR 1,75,000 |
| IMSI | INR 2,00,000 |
| Gestational Surrogacy | INR 10.00,000-15,00,000 |
| TESA | INR 35,000 |
| MESA | INR 70,000 |
What is the success rate IVF treatment provides?
Generally, the IVF treatment success rate relies on the age of the woman and so on the good quality of the eggs. Experience also matters a lot in having a decent success rate for IVF Hyderabad. IVF in Hyderabad performs this treatment with veteran hand specialists. IVF, somehow majorly depends upon the woman's age (whose eggs are used), sperm motility and its production, and obviously crackerjack doctors. IVF Hyderabad's success rate of IVF treatment is 72-75%. If you are planning for IVF treatment to decipher your infertility issue, then must say, go for IVF treatment in Hyderabad. Best of luck with your journey of IVF treatment.
| | | |
| --- | --- | --- |
| No. | IVF treatments | Success rates |
| a. | IVF with self-eggs | 50 to 60% |
| b. | IVF with self-sperm | 55 to 60% |
| c. | IVF with donor eggs | 70 to 75% |
| d. | IVF with donor sperm | 73 to 77% |
| e. | IVF with FET | 60 to 65% |
| f. | IVF with ICSI | 50 to 65% |
Your Success rate with IVF in Hyderabad will still depend on several variables. Because some couples are older than others, this affects their odds. because producing healthy gametes becomes difficult as people age. Additionally, inadequate gametes during the IVF procedure can result in a failed IVF. So, for a successful outcome, you need healthy gametes. Instances include:
Women who are 45 years or older have a 15–20% probability.
Women who are 40 years or older have a 20–21% probability.
Women who are 35 years or older have a 25–28% probability.
Women who are 30 years or older have a 33–35% probability.
Women who are 25 years or older have a 40–50% probability.
What should you consider when selecting the top IVF clinic in Hyderabad?
We understand how difficult it becomes to select the best option for your infertility treatment but do not get tense as one of the best options is going to suggest to you where the patient collaborates with highly experienced and qualified doctors. The patient will find it comfortable as the staff will always stand by them away from all the quarries that come to their mind. We offer all types of infertility treatment so contact us today! To start, consider the following factors while selecting a location:
i. The patient-focused assistance of the centre
ii. Professionals with extensive education and experience
iii. Infrastructure that is well-built for maximum comfort and happiness
iv. The entire medical staff treats you with respect
v. Assists you throughout the entire process from the beginning
vi. Offers transparent fees and processes
You have the option of choosing IVF for all of these! So, reach out to us at +91- 9899293903 | Email ID: info@selectivf.com
AT the End –
Some of the Fertility Treatment Cost in Hyderabad seems a little daunting but a couple can go for Personal Loan that will surely help them to turn their dreams of becoming a parent into reality very soon!
With the low cost of advance technology, the abundance of skilled veterans, and an English language-friendly medical industry, many of the Indian states have become a major global service provider giving best fertility treatments to those couples who have been waiting for their bundle of joy.
FAQs
What is the cost of IVF treatment in Hyderabad?
The cost of IVF treatment in Hyderabad, India can range from around INR 80,000 to INR 2,50,000 or more depending on factors such as the clinic, doctor, type of IVF procedure, medications, and additional treatments.
Which IVF clinic has the highest success rate in Hyderabad?
Select IVF India is one of the IVF clinics with the highest success rates in Hyderabad, India.
What age is IVF most successful?
IVF success rates generally decline with age, but the age range where IVF is most successful is typically between 25 and 35 years old.
How do I know if I'm infertile?
Signs of infertility include irregular periods, painful periods, abnormal vaginal discharge, hormonal imbalances, and pain or discomfort during sex. It is important to speak with a doctor if you are concerned about your fertility.
Read Also: