Top 10 Best Surrogacy Centre in Bangalore with Success Rate
Are you searching for the best surrogacy centre in Bangalore? If yes then you have clicked on the right link. Through this article, we are going to ease your work and help you find the best surrogacy hospital in Bangalore that is providing the best treatment with a high success rate. In this article, we will give all the information you need to know for selecting the appropriate clinic according to your preference.

Here is the list of top 10 best surrogacy clinics in Bangalore
Select IVF India, Bangalore
Mannat fertility centre
Momsoon fertility and IVFcentre
Dr Rama's Test Tube Baby Centre
Vardhan Fertility
Khushi Fertility & IVF Center
Smile baby IVF
Cloudnine fertility
Garbagudhi IVF centre
1. Select IVF India, best surrogacy centre in Bangalore
It is one of the best surrogacy centres in Bangalore. There are numerous valid reasons for placing it on our list. Clinics and hospitals under Select IVF India are pioneers in their area of expertise. It provides the finest treatment to its clients. They have a high success rate in terms of successful surrogacy. For surrogacy, they have the record of registered surrogate mothers with all the required medical history so that you don't have to be worried about your child's health.
The centre assists the clients or intending parents to choose the best for them from the beginning (signing the legal contract so that parents and surrogate mother doesn't face any problem) till the end (childbirth) and even after the birth of the child. Unlike many other clinics, this clinic is well known for keeping transparency with willing couples. They have their team of noted fertility doctors, embryologists, gynaecologist, urogynecologist, ward boys, nurses and many more to help the couple. The team of doctors analyzes and keeps eyes on the smallest details of the procedure so that the child born healthy.
The success rate of the centre is high. Like you, many couples who were struggling to become parents are now happy parents with their worthwhile journey.
Given below are the details and facts about Select IVF India in Bangalore that you need to know
Surrogacy cost: starting at 10 lakhs
Success rate: 85-95%
Other treatments: IVF/ICSI, GIFT, FISH, ZIFT, IUI, PESA. PICSI, hysteroscopy, hysterectomy, egg freezing,fibroids surgery and many more
Location: Chennai, Bangalore, Delhi, Mumbai, Kenya, Ukraine, Georgia
Website: https://www.selectivf.com/
2. Mannat fertility centre,
This hospital is a recognized fertility centre in Bangalore providing surrogacy treatment to couples with infertility issues. They have their own IVF lab equipped with the latest technology. They have the team of renowned Obstetrician Gynecologist and Infertility specialist who delivers the best treatment to the couples willing to have a child through surrogacy.
Surrogacy cost: N/A
Success rate: N/A
Other treatments: IUI treatments, IVF treatments, ICSI, Egg and sperm donation, Freezing, Blastocyst Transfer, Gynecological
Location: Kishan Icon 90/2, 2nd Floor, Outer Ring Road, Marathahalli near Innovative Multiplex, Bangalore
Telephone no: 080-42019651/652
Website: https://www.mannatfertility.com/
3. Momsoon fertility and IVF centre
Momsoon fertility centre established in 2010 have handled around 12000 ICSI cases nationally and internationally. The expert team of Infertility Specialists which includes Senior and junior Embryologists, Gynaecology, Reproductive Endocrinology, Urology and Andrology provides their patients with the best treatment. Other than surrogacy they have many treatments to help infertile couples. Apart from it, the centre provides counselling to the couples, who are in dilemma or hesitating in taking the help of surrogacy to become parents, so that they can choose the right path for them.
Surrogacy cost: N/A
Success rate: N/A
Other treatments: IVF, PES/TESA/MESA, FAT, Assited hatching, IVM, and many more
Location: # 60, 62, 8th B Main Rd, 4th Block, Jayanagar, Bengaluru, Karnataka 560041
Website: https://www.momsoonivf.com/
5. Dr Rama's Test Tube Baby Centre
Dr Rama's Test Tube Baby Centre is in this field since 1991. With the experience of 25 years and the latest techniques and complete required services, they provide the best treatment to couples in need of help. They guide their patient about the whole procedure so that no door left for any further confusion. They promise to provide low-cost IVF fertility treatment and services in one place.
Surrogacy cost: N/A
Success rate: N/A
Other treatments: IUI, IVF, Assisted embryo hatching, semen cryopreservation
Location: DC Chambers, 421/M, Shri Krishna Temple Rd, Indira Nagar 1st Stage, Bengaluru, Karnataka 560038
Website: https://www.drramasivf.com/
6. Vardhan Fertility
This centre provides the finest fertility treatment with advanced technology. They have a team of fertility specialist with more than 15 years of experience in this field. They are providing fertility treatment at an affordable cost since 2015. At Vardhan fertility centre they have different types of services available which includes Laparoscopy, Hysteroscopy, donor egg IVF and so on.
Surrogacy cost: N/A
Success rate: 59%
Other treatments: Laparoscopy, Hysteroscopy, donor egg IVF, intra uterine insemination
Location:1st Floor, Dodda Banaswadi Main Rd, Above Federal Bank, Banaswadi, Bengaluru, Karnataka 560043
Website: https://www.vardhanfertility.com/
7. Khushi Fertility & IVF Center
It is a multi-speciality hospital centre situated in Bangalore run by Rashmi Yogish MBBS, (MS (OBG). At the centre, with the latest technology and a team of fertility specialists, surgeons, and full-time embryologists, they offer a top-notch ART facility with customized treatment protocols according to patient's need who is suffering from infertility due to any reason. The whole procedure of surrogacy is done under the guidance of the experts.
Surrogacy cost: N/A
Success rate: N/A
Location: 31, Mohan Chambers, Mini Forest Road, 1st Main, 3rd Phase JP Nagar, Bengaluru 560078, Karnataka
Other treatments: ICSI,IUI,IVF
Website: https://www.khushifertility.com/
8. Smile baby IVF
Smile baby IVF centre provides affordable surrogacy treatment to the intending parents. Both male and female fertility cases are treated here under the supervision of experts with the help of advanced medical, surgical and scientific techniques. They follow a self-made treatment protocol which includes counselling and investigation to make treatment more effective. They have verities of fertility treatment available at their centre.
Surrogacy cost: N/A
Success rate: N/A
Location: Hennur Main Road, Below Fly over, Lingarajapuram, Bangalore
Other treatments: IMSI, FET, IUI, Tubular surgery and many more
Website: https://www.smilebabyivfs.in/contact-us.html
9. Cloudnine fertility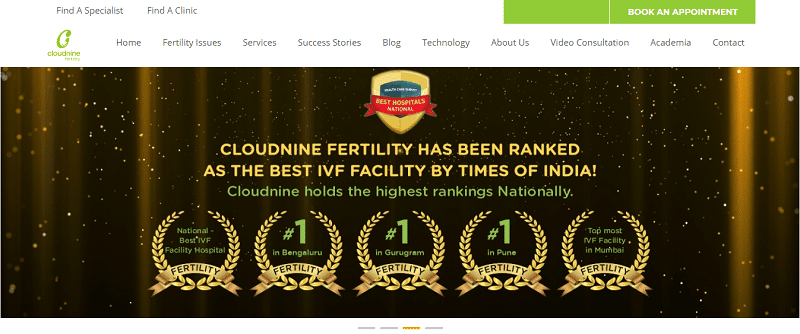 It is one of the best maternity hospitals in Bangalore. With an award-winning portfolio in the health care sector, they provide quality fertility and reproductive endocrinology treatment. With a team of fertility specialist, skilled staff and appropriate infrastructure they offer the best treatment to transform infertility into parenthood. Their thorough approach to fertility ensures a high rate of success. The surrogates this centre provides are young, healthy and fit with an experience of at least giving birth to one child through surrogacy. They have a maintained fertility record of the surrogates.
Surrogacy cost – N/A
Success rate – N/A
Location: No 29/7, 1st Floor, Kodihalli, Old Airport Road, Bengaluru, Karnataka 560017
Other treatments: LAH, IVF, ICSI,FET, DFI, etc
Website: https://www.cloudninefertility.com/
10. Garbagudhi IVF centre
With his world-class fertility care, it has brought around 6000 babies into this earth since 2010. They have a team of infertility specialists like gynaecologists, embryologists, technicians and skilled staff to take care of their patients who came to them with the hope of a child. Garbahudhi has one of the highest success rates in fertility treatment which is over 66%. They offer affordable treatment without compromising the quality of the services.
Surrogacy cost: N/A
Success rate: 66%
Location: 26, Patalamma Temple street, Near Metro Station, South End Circle, Jayanagar, Bengaluru
Other treatments: IUI, IVF, FET, Infertility treatment for men and women
Website: https://www.garbhagudi.com/
These are the top 10 best surrogacy centres in Bangalore which can be your magic wand to give you the wonderful feeling of parenthood. Though it helped thousands of couples in turning into parents, Surrogacy is still considered a controversial topic. Gradually people are becoming more open to this option. It cannot be denied that this method of fertility has helped many couples who had a desire to become a parent, but due to health and infertility issues couldn't have this opportunity. So if you desire to experience the touch of those tiny fingers in your hands, crave to listens to those endless giggles and laughter of a baby, and live in Bangalore you can select from these top 10 best surrogacy centre in Bangalore and enjoy parenthood.
FAQs
Will the baby look like a surrogate mother?
It depends on the method of surrogacy if it is the traditional method which means the egg is of a surrogate mother then yes. If the gestational method is used which means the egg and sperm used is of intending parents then the answer is no. 
What are the risks of surrogacy?
The medical risks in surrogacy are as similar as natural pregnancy.
Does the surrogate mother share the DNA with the baby?
The child shares the DNA with those who have given the sperm and eggs for the pregnancy. So if the egg and sperm are of the couple who are willing to become a parent through surrogacy, the DNA of the baby will be similar to theirs, not a surrogate mother.
Which country is best for surrogacy?
US, India, Thailand, Ukraine and Russia, Mexico, Nepal, Poland are among the countries which considered being best countries for surrogacy.
Read More: